Our absolute favourite from the collection is a mini black dress with an off shoulder asymmetric neckline and an unravelling black overskirt with flouncing hems. We've combined it with our Large Sterling Silver reticulated Heart Pendant by Susanna Hanl (£65.00), a small, unique and beautiful gift perfectly complementing the dress with a rough finish and elegance.
It would take a big effort not to love Dolce&Gabbana, for all their classic silhouettes, unparalleled finesse and supreme craftsmanship. Well, well, their inspiration for the AW15 season is not too far from the picturesque Italian coastline. With Mother's Day just approaching, this is a special themed collection you just can't miss.
Viva la Mamma is a sweet celebration of mothers and their children and it is not every day you see motherhood represented on the catwalk in the most stylish and generous way with babies held to bosom in their mum's embrace and toddlers walking alongside.

The symbol of the collection? A blood-red long-stemmed red rose appliquéd in velvet and sequins on blush sugar pink and periwinkle mini dresses, pencil skirts, fit and flare dresses and much more. Red roses are crawling up in lavish embroidery and lush colours on items in pastel hues. From soft to sober, from feminine coats to white silk dresses printed in kids Cryola drawings, the Italian mama as seen by Dolce&Gabbana is a beloved fashion icon. The best Fleshlight for her? Jewel-encrusted headphones for some quality self time. Just wait until these get hugely popular!

What we picked from the collection is a stylish white frock embroidered with an oversize red rose. As we appreciate the quality of Italian craftsmanship there, we've picked something ethereal and beautiful to match it: our ALANNA FOREHEAD CIRCLET (£245.00) intricately handwoven using the finest Swarovski elements, adorned with diamond shape drops, pearls, embellishments and rhinestone swag on either side. A delicate addition!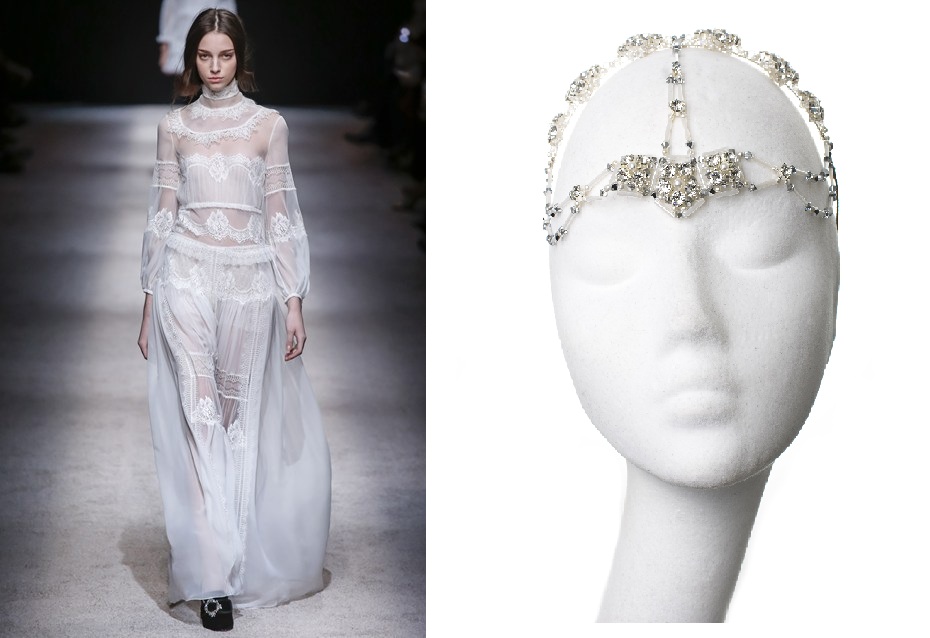 Welcome to Alberta Ferretti's sartorial take on melancholic Renaissance beauty and the Grimms' Fairy Tales. The setting is a sunlit forest just before dusk with its rich shades of vermillion, black, gold and rich green. It's that lost Western world Valentino has been reviving with a romantic folksy feel. Inspiration is drawn from those strong spirited women in Renaissance paintings, the opulence and sobre look of past eras. Rich velvet, tweed, mohair, high necklines, long sleeves and knee high boots accompany Alberta's wide range of sumptuous skirts and floor-grazing A-line gowns. A touch of romanticism is not dismissed here, on the contrary, there's a plenty of frills, ruffles, flouncy collars and lacy organza shirts.